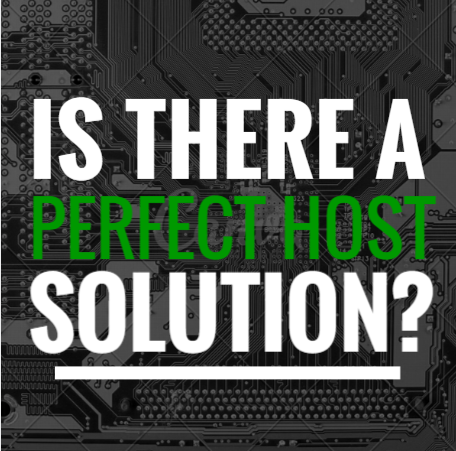 The expression: "Success has many fathers, but failure is an orphan" was made popular long before websites and their hosting were tasks to be scheduled.
At this point, you can apply every axiom about dropping balls and missing deadlines to website launches. They are notorious for this distinction.
And even more astounding…it almost seems expected. Have we as technology-reliant fanatics really lowered our standards that close to the ground?
Has the email sentence: "We are scheduled to be live on Monday start of business" really become synonymous with Tuesday end of day? When did a swing and a miss become acceptable? Is this level of service the new norm? Expected? Don't we need to take back our control over these projects? Isn't it time for failure to be the exception, not the standard?
Forgive the negativity, but anyone who owns a business has heard (and experienced) the hosting horror stories. We know our team has worked long into the wee hours of many weekends to contend with hosting issues caused by less-than-stellar providers to make sure we kept true to promises made to our clients.
While there are many, many moving parts to conceiving, designing, drafting, developing, hosting, and testing a website; rocket science it isn't. (And this little tirade is just the beginning – what's the quality of service once the site actually is live? Does it move and shake, stand and deliver, remain secure yet perform as envisioned?)
We've said it before about social media management. You get what you pay for…are you content to send a single morning Tweet about your company's newly expanded service offerings? Or is there value in having experts develop a targeted campaign to attract and inform new and potential clients at the right time, with the right content? Twitter is free, but what good is it without Tweets?
It's a true truth…there is no such thing as a free lunch and irresponsible hosting is cheap. I mean cheap like a Cracker Jacks toy — not meant to endure a great deal of stress — not in for the long haul – and fated to go missing under the couch.
So what's the answer? In our house, it is trust. You must align with people who share your standards and understand your brand of client commitment. That's why our new partner is Pantheon, a website management platform. And this is not a paid endorsement for Pantheon! We wouldn't align our hard-won reputation with theirs if they didn't have what it took to support one of the pillars of our business.
What do our resident developers say? With no coaching from the audience?
Joe: Before Pantheon I had to maintain a VPS for the client websites, create daily backups, use caching plugins, use MAMP, create Dev/Test sites, update PHP/MySQL/Apache, spend the weekend learning how to SSH into our production server to install mbstring for a required plugin.  The sad part is this list could keep going. Moving to Pantheon removed all of those tasks from my day-to-day responsibilities. Pantheon is a dream for any WordPress or Drupal developer!
Alison: Pantheon gives developers easy access to all the tools they need and want to use for their clients' sites. Being able to switch between the git and sftp connections allow us, as developers, to use the best of both worlds, and it is all easily done from a button. The multidev environments help us to be able to continuously work on our clients' sites for multiple phase rollouts without needing to do extensive work to prepare another environment. We simply clone the live environment to the development environment before beginning to customize code. Multiple developers are also able to work on versions of the site and merge it into the live environment, leaving Pantheon to do the heavy lifting. And finally, one of my favorite aspects of Pantheon is being able to invite a client to pay for their site. With the blurry lines between developers and websites for clients that some shadier individuals have taken advantage of, I respect that Pantheon understands this difficult business relationship and has tried to offer a solution. With the business owner being offered to pay for the site upon development's completion, which is made to be as simple as putting the client's email address into a field, it allows the developer to continue to offer their services within the agency but the client to be in control and ownership of their site. Pantheon is a truly wonderful company that treats their Partner Agencies extremely well. They are constantly updating their platform to offer better solutions for their customers and offer a profoundly fast product.
Bottom line: Pantheon is invested in our clients' successes. We can build, launch, and run all client sites on one unified platform with benefit of the best tools in the trade.
When you operate a marketing company, you are constantly changing gears to accommodate the industries spanned by your clients. We need flexible assurance. So for us, the benefits of being a partner with Pantheon are pretty colossal:
Agencies Dashboard – we can filter and sort sites based on whether updates are needed
Change Management – give or revoke site access to anyone in our agency in seconds with role-based permissions system
Transmit secure invites to designers, developers and contractors to work on any client's site
Multidev – speed up development and prototyping for any site by creating multiple cloud development environments for feature branches and developers
Partner playbook – provides the best presentations and marketing materials to support web projects
Technical and Sales Training – Pantheon consistently works with our agency to achieve mutual success
Custom codebase – allows us to maintain a website starter kit with modules, plugins and themes.
Custom Development URLs – we use our agency's URL for client-facing sites in development
Stellar project management – gather all the detail and prepare for any eventuality
Pantheon gets it. Low-rent hosting doesn't fly. It won't float. It won't work. And neither will your website. Check out this e-book from Pantheon about the Perfect Website Launch.
The CRUSH Agency® is a full-service marketing and advertising agency with a core focus on digital marketing strategies, robust SEO and SEM campaigns, targeted social media and ingenious branding and design services. With offices in King of Prussia, PA and Tampa, FL to support the unique needs of clients nationwide, CRUSH has the digital expertise to grow your brand.