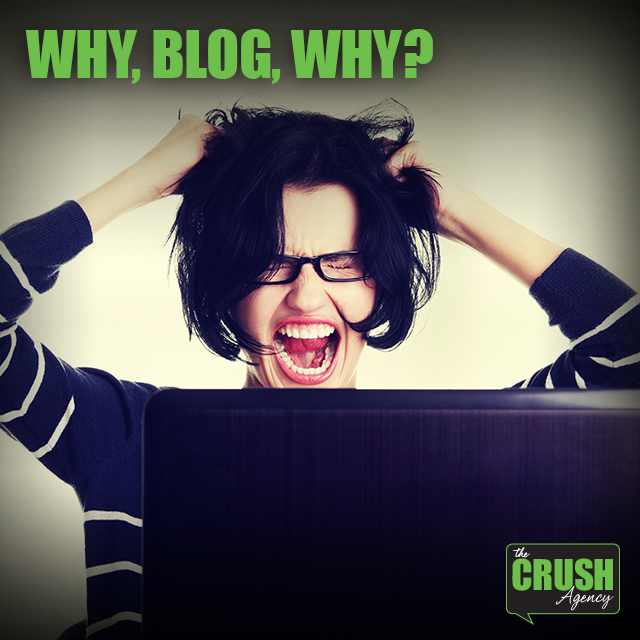 If a blog falls in a forest and no one hears it, does it make a sound? Abso-blooming-lutely!
With today's "get it done yesterday" mindset: is "blogging is really worth it"? A good blog post can take several hours to write if it's well researched, but is your hard work going to waste? Is anyone reading your content?
Social media revolutionized contemporary marketing techniques, and we contend that blogging is still relevant and a viable pillar. According to a HubSpot survey, 60% of businesses that blog acquire more customers.
Blogs aren't just for sharing thoughts and opinions, blog writing for businesses should be calculated and strategic. More than half of your readers may never read the majority of a given post, so getting to the point and making it count can make or break your blog.
Blogging is an important part of your online content marketing strategy for several reasons.
SEO: Search engines love valuable, fresh content. (Feed me Seymour!) Updating your website frequently with blog posts infused with plenty of keywords helps beat out your competitors in the search engine results page.
Credibility: Blogging gives your company a voice. Feel free to talk about new products and services or give insight on new topics and trends. Showcase your company culture. This is a great way to establish a dialogue with customers and share your expertise.
Drive Traffic: Your blog can serve as a marketing tactic to bring old and potential customers back to your website. Make your blog the foundation for all your social media platforms. Post links via Facebook, Twitter or Instagram of your articles to give your followers a reason to click through your website.
Sharpens Business Focus: A blog with no focus attracts no readers. As a business you must define who you are blogging for and why. Blogging keeps you up-to-date on newsworthy topics, your industry and your customers. Lastly, blog analytics can give you valuable insight into your audience.
A Blog to Sink Your Teeth Into
Audience consumption of your blog content relies heavily on the type of content you create. Here are some quick tips on how to make your blog most effective.
Minimize Design Distractions: Before you start writing, make sure your blog is clean and clutter free to allow your reader to consume content more effectively.
The Right Content: People prefer to read and share certain types of content. Depending on your niche, create the content with a higher success rate.
Think Mobile: Almost everyone accesses media from their smartphones these days, even blogs. Make sure your site design is responsive, and optimized for mobile visitors.