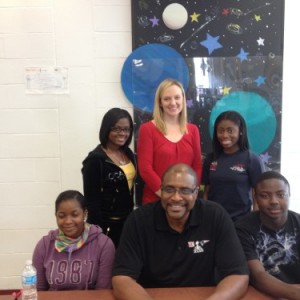 By Liane Caruso
Recently, I was introduced to Tyrone P. Keys, former Chicago Bears Super Bowl champ (and of Super Bowl Shuffle fame), and all-around good guy. What I didn't know when I was meeting Keys for the first time, was the depth of All Sports Community Service, a non-profit foundation that provides students with a chance for success through education, support and by giving back.
Celebrating 20 years of making a difference in students' lives, Keys says, "I always have time for every young person who is willing to give back to society."
I had the pleasure of meeting some of his students who are involved in the Urban Teaching Academy program at Blake High School. These students have dreams to become educators and Keys loves to help inspire those with that particular dream. His life was forever changed by a high school coach, so he knows the power that a teacher has. "It begins with one person who touches another person, who touches another person…" he says. All Sports has helped over 1,000 students get into college.
Keys is now mentoring successful athletes to leverage their role model status that might help change lives in their own communities. He guides them in the creation of their own non-profit organizations and foundations and teaches them the steps to making a difference.
Keys knows his students have guided his mission just as much as he has guided theirs.  All Sports success stories all come full circle.