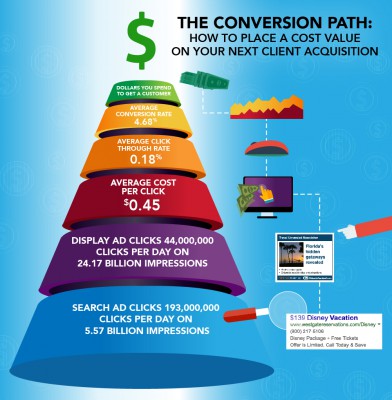 Beneath branding and social media engagement exists the truth of client acquisition: the numbers. Typically the most expensive component of any business model, the dollars that support a company's procurement strategy are at the foundation of a profitable business.
So where to start??
Well, we live in Google Almighty's world so let's consider that when referencing the cost to acquire a customer. Whether goods or services, there is an allocation of time, cash, and resources which need to be allotted to the development of a product or streamlining the process that delivers your company's professional amenities.
As an example, here's the 40,000 foot perspective of the steps Acme Widgets, Inc. must undergo to succeed in growing its client base.
1. Initially, they will spend as much as is reasonable to conduct the research and development to build that better mousetrap.
2. After that money is spent, they incur the manufacturing expenses which help determine the perfect retail price for the target market. This will ensure that the mousetraps sell and AWI yields the ideal profit margin. So far, so good.
3. If the manufacturing cost is $1 and the retail is $2, all's well. On paper and on the shelf, the new mousetrap is a hit.
4. Enter that pesky tent pole of Business 101: the cost to find and entice the target market into the brick and mortar store and/or onto the e-commerce site to plunk down the two bucks.
5. If incorrectly calculated from the beginning and the resulting cost of each client's acquisition turns out to be $5, that bucket of money will likely run dry faster than those mousetraps can be made and sold. This is the math of marketing.
There's no business truly exempt from the benefit of the lowest possible client acquisition cost to fuel the best possible return on investment. Regardless of the available client acquisition budget, who wants to get caught in a mousetrap of their own making? It's a slow, but sure death to a business.
Which brings us to alternatives. What are the options in The Googleverse and how is it possible to assess the value of clicks and impressions as they relate to catching and keeping a customer?
Pay Per Click Marketing
As the name implies, you are being charged per click. Considering Google's hundreds of millions of clicks/day, strategy is everything. The belief that you get what you pay for is sort of true. Your PPC ad campaign will be well placed – showcased in the header, footer or sidebar apart from the organic search results of the companies who organically clawed their way up to page one in the rankings.
But still, in the world according to Google, there's no such thing as a free lunch. Even in the absence of a targeted PPC campaign, endearing your company to the search engines takes a ton of SEO sweat equity. Search engine optimization is a high stakes game. Google is in the information business and theoretically, wants its users to have the best of the best. Although seemingly balanced with the unpredictability of a high wire act, they do reward fresh content and a prodigious SEO plan.
PPC and SEO
Competition is fierce for the appropriate/relevant keywords and key phrases you select that relate to your business, so your organic SEO efforts are well complemented by a strategic PPC marketing plan.
If you are engaging in a cost per click (CPC) advertising campaign with Google AdWords for example, then:
The popularity of the keyword,
The number of advertisers vying for its use,
And the related web sites that have ad positions for that same keyword,
will all factor into your marketing strategy.
On the flippity flip (as Michael Scott of Dunder Mifflin would say), PPC campaigns are structured to charge your account based on the clicks your ad receives; not the views. Since you can set the parameters of the budget in advance, it is a line item that can be determined ahead of time. (Note that Traffic Counts and Traffic Expense will vary greatly depending upon your industry so you want to be judicious in this allocation.)
Search vs. Display Marketing
Our multi-faceted friend has two faces: Google Search and Google Display Network.
With a neighborhood of over 190 million clicks per day, Google Search ads are where you'll find prospective clients who are more likely actively seeking to purchase. They are feeding on the over 5 billion impressions to get more info/pricing about their imminent, or future retail activity. Some potential clients may be taking their time and assessing their purchase from all angles (collecting data so to speak), especially if their interest is expensive, high-end digital equipment. As far as consumer behaviors go, these types of purchases are not always the impulse buys.
Conversely, with Google Display Network, the impressions of your ad are more static. You ad is instead peripheral to what a person is doing online and therefore met with a different level of interest. Not exactly the feeding frenzy of a Google search, but on the fringe of engagement. However, like a traditional drip campaign, you are creating awareness for your future client's purchase of a new home theatre system with your established "brand recognition".
Speaking of "brand recognition" if you have ever visited a site, then left it and found yourself stalked into infinity and beyond by ads for that very same Sony center speaker you had previously considered on the Best Buy site, that's Google remarketing. For your business, this strategy takes the Google Display Network features up a notch by allowing your business to leverage a cookie that will follow your visitor after they leave your site. A "smart cookie" if you will – it remembers the page on your site that was visited and proceeds to place ads related to that item through the Google Display Network, over Google partner sites. A not so subtle, but nontheless effective means of poking the bear to crack open his Google wallet!
Again, even if the potential client decides against the purchase, you are still sowing a seed while promoting your branding. Remarketing tends to be very successful because visitors continue to see your ad related to an offer in which you know they are already interested; all the while building trust through familiarity.
By the Numbers: Google Search Ads vs. ads on the Google Display Network
Although the GDN is comprised of more than a million websites, videos, and apps where ads can appear, the compared ratio of impressions to clicks may appear surprising.
Clicks on impressions:
Google Search Ads clicks: 193 million/day on 5 billion impressions
GDN Ads clicks: 44 million/day on 24 billion impressions
Average cost per click
45 cents
Average click through rate
.18%
Average conversion rate
4.68%
It may defy the logic of proportions when you consider the reach of the Google Display Network, but numbers never lie. After you calculate in the average cost/click and the subsequent click-through and conversion rates, the bottom line may have you reconsidering how you allocate marketing dollars.
Then again, if basing your client acquisition cost allocation solely on the Google Search ad numbers, you would think that advertising on the Google Display Network may not really be a wise disbursement of marketing moolah. When the "If You Build It, They Will Come" philosophy fails, is it worth it? Are impressions any good if they are not recognized via click? Actually, yes.
Call it subliminal advertising or straight forward promotion of brand awareness, but the absolute reach of the Google Display Network makes it a completely viable strategy even though the calls to action appear to go unheeded. The exposure attributed to those impressions across those millions of websites, videos, and apps, yields a result that is still an influential factor; a piece of the overall structure that supports your end game.
If the average Conversion Rate is 4.68% and will vary based on the conversion path of the business and the industry, we all know we are playing a numbers game. (Increasing conversion rates through defining traffic, setting ads, developing landing pages, etc. is a story for another day.)
The limelight at the end of the tunnel? Like a local Realtor who understands she needs to call 50 prospects, to get 10 appointments, to yield 3 listings, every business needs to know its numbers. It sounds insanely simple and it sort of is. The cost of acquiring a client is the most fundamental number for a business to comprehend.
From that independent Realtor to a behemoth like Apple, (still holding its spot as the world's most valuable company according to Forbes!), you need to know what it costs to acquire your clients and incorporate a strategy to keep those costs as low as possible to achieve the highest profit margin possible.
While we're all ultimately in the business of worshiping the false god that is Google, it's the only way up.