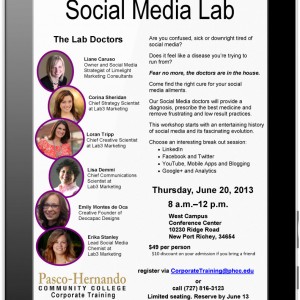 The Corporate Training department at Pasco-Hernando Community College will offer a Social Media workshop on Thursday, June 20, from 8 a.m. to noon at the West Campus in New Port Richey, 10230 Ridge Road. This event is open to the community.
Social Media experts from Limelight Marketing Consultants, Lab3 Marketing, and Deocapac Designs will discuss the evolution of social media, its current state and provide tips on how to determine the right strategy for your business and personal social media needs.
Participants will learn to get results by attending one of the following breakout sessions on their favorite social media outlets: LinkedIn; Facebook and Twitter; YouTube, Mobile Apps and Blogging; or Google+ and Analytics.
Tuition fee is $49 per person; $10 discount if you bring a friend. All participants will be entered to win a complimentary consultation with one of our Social Media experts.
To register or for more information call 727-816-3123 or email CorporateTraining@phcc.edu. Registration deadline is June 13, 2013.