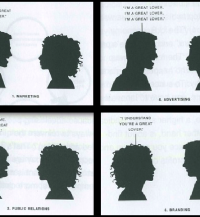 Are You Unknowingly Making This Costly Marketing Mistake?
Given the pervasive misuse of the word "branding," it's no surprise that many entrepreneurs make the mistake of investing in advertising or marketing before they really define their company brand. When discussing their various promotional endeavors, business owners will frequently use all three words – branding, marketing, and advertising – interchangeably. Confusion over the distinctions between these industry buzzwords may not seem like a major issue, but that lack of clarity can actually produce a detrimental fiscal impact. Studies reveal that when companies begin marketing their products and services before clearly defining their brand, they usually fail to achieve a return on their investment.
Branding vs. Marketing
Your brand is the true "personality" of your business – it conveys who you are, what you stand for, and who you serve. Your brand tells your customers what they can expect from you and differentiates your products and services from those of your competitors'. You can employ a wide variety of marketing tools and strategies to help build brand awareness, but it's important to understand that these are only vehicles used to promote, not create, your brand.
Don't despair if you skipped over branding and dove right into marketing implementation – but don't delay addressing the issue either. Until you define your brand, your tactical marketing efforts will lack the cohesion and authenticity you need to connect with your ideal client and establish trust. Don't spend any more money on marketing until you've firmly established your company's brand or you risk wasting precious funds on ineffective advertising.
Plan to Brand in 2014
A structured marketing plan with clearly defined objectives, strategies, and assessments can potentially serve as the bridge between your business's vision and reality. In addition to following the plan, however, you must also be willing to periodically analyze your results and make adjustments based on your findings.
Integrate the steps below to jump start your 2014 marketing plan and illuminate your brand's unique "personality" – who you are, who you serve, and what distinguishes you from competitors.
1.      Self-inventory. In order to define your brand, you'll need to identify your Unique Selling Proposition (USP). This process requires some serious soul searching, as you'll need to articulate how your skills, passions, values, and vision align with your company's mission, services, and operations. Tea Silvestre aka The Word Chef generously provides a wealth of free resources to guide you through this process in her branding tutorial. You can also obtain some materials from her branding course (Your Brand: How to Create an Enticingly Delicious Marketing Message) and view the accompanying webinar.
2.      Market Research. Once you've completed the self-inventory, you should redirect your scrutiny to focus on the marketplace, your ideal customer, and your competitors. What is the outlook for your particular business? What market opportunities and threats might you face? Who are your top competitors? How do you compare against them in terms of pricing, products and services, and branding? When it comes to creating your ideal customer profile or figuring out your target market, consider demographics, past clients, and people in your social circles. How does your service/product address their unique problems and challenges? Social media forums are excellent places to gather information about your target market. Observing who they follow or how they respond to discussions may help you devise an effective marketing strategy.
3.      Measurable Goals. An effective marketing strategy is driven by quantifiable goals, so you need to develop specific objectives that can be measured. By setting quantifiable goals for the year, you'll be able to track your progress and determine what changes (if any) need to be made to your marketing plan. Your goals should also be attainable, but enough of a stretch to present a challenge.
4.      Strategy. Now that you've identified your brand, you need to determine which strategies will be most effective for promoting it. Your current marketing stage as well as the results of your market research and ideal customer profile should help you decide which marketing strategies to focus on. For example, if you're focusing on having more sales conversations, then you might focus writing and publicity strategies.
5.      Tactics. Tactics are the tools or channels through you will use to carry out your marketing strategy. Maybe you need to revamp your website to improve conversion, set up an analytics program to measure engagement on your blog, or create a package with a narrower focus of services to give prospects a better sense of who you are and what they need from you. Be creative and find ways to reinforce your brand in whatever tactics you choose. See our previous post for tips on brand consistency!
At Limelight Marketing Consultants, our integrated marketing approach is driven by our "Big Picture" mentality. We can help you develop a marketing plan that aligns with your vision and recommend which services would be most effective for reinforcing your brand and attaining your unique business objectives. Call 813-419-3777 today to find out how we can shine light on your brand.