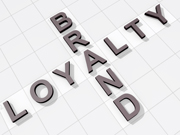 Today's consumers are inundated with thousands of advertising messages all day long, so distinguishing your brand from competitors has never been more critical to the success of your business. However, it's not enough just to catch prospective buyers' attention – you need to create a lasting impression. Fortunately, building a memorable brand isn't as difficult as you may believe. You can differentiate your brand and help customers remember you just by maintaining consistency in all of your marketing endeavors. People are creatures of habit, so we instinctively seek out the familiar, particularly when faced with information overload. Brand consistency helps establish trust and authenticity, factors that weigh heavily in our purchasing decisions.
Visual Unity
Brand consistency begins with a unified visual identity, so all aesthetic elements – color palette, logo, and typography – should be cohesive.
Color Scheme. A cohesive color scheme is one of the easiest ways to create brand congruence and communicate personality. An ideal color scheme should consist of one to two colors that complement each other and reinforce your brand. Multiple colors can detract from the overall impact of your brand, so try not to exceed three. This palette should be applied throughout all of your company's marketing materials (logo, website, brochures, flyers, signage, products, packaging, etc.) in order to maximize exposure and heighten recognition of your brand.
Logo. As the literal symbol of your business, your logo is the most critical visual component of your brand. The primary purpose of a logo is to identify, so you need a distinctive design that conveys your brand's intended message. Although great logos combine several elements, respected graphic designers like Men with Pen's Harrison McLeod recommend using these five design principles as criteria to determine whether a logo fulfills its purpose. 
Typography. With so many font choices, it can be tempting to deviate from your brand's designated typography. However, maintaining one consistent font style creates uniformity and makes it easier for people recognize your brand.
Strategic Sharing
Social media provides a perfect platform for promoting your business, so your strategy should consistently support your brand. Initially, you might experiment with different forms of social media, but eventually you should settle on using certain sites regularly. Once you've made that decision, help prospective customers connect with you by exercising brand consistency wherever possible.
Customize Profiles. There are several ways you can customize your social media profiles to support your brand, including your URL, background, photo, and tagline. Most social media sites allow you to customize the URL, so make sure you change the default to something more suitable for your brand and then use the same URL in all your profiles (I use "Hello Liane" and "Hello Limelight" for both Twitter and Facebook). Some social media sites, such as Twitter and Google Plus, allow you to customize your background, so choose a background that reinforces your brand and then apply that same design across all of your social media profiles. Use the same picture for all of your profiles and incorporate your tagline into your bio.
Set a Schedule. In order to obtain followers and encourage engagement, you should schedule where and when you post as well as how much content you share. For example, commit to blogging on a weekly or biweekly basis and determine which days you will debut the new posts. Dramatic fluctuations can be confusing for customers, so you need to find a rhythm for posting that you can stick with. Hootsuite is an excellent tool for managing social networks and tracking campaign results. Prefer hands-on assistance? We offer social media management at Limelight to help you create a social media plan that works with your brand.
Watch Your Tone. Your brand's personality includes a distinctive tone that supports your company mission, helps convey your message, and appeals to your target audience. It can be whatever you want – nurturing, sarcastic, offbeat, or matter-of-fact – but it needs to remain consistent across all marketing communications. This is true for the content you write as well as the content you share.
Building your brand is an ongoing process with numerous elements to consider. The good news is that you're not alone – find a company that can help you build a brand that is synergistic with your core philosophies and company mission.