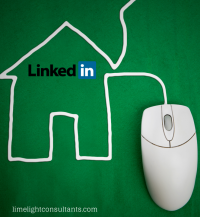 Why do some people have success with LinkedIn, but you can't seem to get the same results?  LinkedIn is not the largest or most popular (although continues to grow exponentially), but it has been embraced by the business community as a place to solicit advice about business decisions, bounce ideas off colleagues, or to get opinions on products or services. LinkedIn has over 200 million members in 200 countries (74 million in the good 'ol US of A).
Here's why you should NOT put your LinkedIn efforts on the back burner: It has been reported that 87% trust LinkedIn as a source of information for decision-making and 49% find LinkedIn to be a good source for word-of-mouth information on brand experiences!
Although LinkedIn is focused solely around business networking, it's still a social site. Therefore, it's still about people! It's about relationships! So, the conversations will be different – just as they would be at a business networking event over a night out with friends. My point is, it is still a two-way conversation.
One of the most important tips to make LinkedIn work for you, is to be proactive. You simply can't expect to create a profile, let it sit there, and expect something to happen. It just doesn't work that way. Sure, people may find you and endorse your skills, but you aren't getting the maximum benefit out of the platform. Here are a few additional simple tips to get the most out LinkedIn:
Complete your profile to 100%. Use a professional photo. Fill your profile and your descriptors with keywords that are relevant to what you do and how you want people to find you. (Here's a bonus tip: think about what they might be looking for; not what you want them to be looking for. Your perception is likely different than theirs. For instance, you are a licensed mental health counselor and we all know you worked hard for your degrees and certifications. But, someone looking for you might actually be looking for "therapist" or "therapist who specializes in marriage and family". Rather than fill your profile with degree certifications – not to worry, there is a place for that -complete your profile with descriptors on how your ideal patient or colleague might be looking for you. Just take a moment to think about you from your target market's shoes.)
Update your followers! You do it on Facebook, you do it on Twitter, so do it on LinkedIn, too. Post relevant, industry-related updates. Position yourself as an expert in your field who is always on top of the latest news, highlights and trends. Be sure to post your own blog content as well. Post regularly! Post often!
Join Groups. Find groups that are relevant to your industry and engage in conversation with fellow groupies. Post articles, post blog content, answer questions, ask questions, find conversation that is stimulating. Be an active participant and offer your expertise or services. Don't spam! Use this opportunity to meet new clients, prospects, partners or colleagues and show off what you know.
Create a Group. If there's not a group that has the conversation that you're looking for, create one! Make the decision if you want it to be open or closed and start inviting connections. Consider your keywords and the people will start coming. Make sure it's monitored regularly for spam and the conversations are kept professional. Be your own conversation starter by posting polls, questions, articles.
Does your brand have a business page? It's easy to create one, make sure your brand has a presence as well. Complete the profile with relevant keywords, use photos and post updates regularly. Share your blog, news and company highlights or milestones, employee news. Make sure you share your brand's updates to your personal profile as well!
Recommendations are important! Write truthful recommendations for others, and ask colleagues or associates or clients to write recommendations for you. Recommendations hold more value than endorsements, so take the time to write them and never hesitate to ask for one.
Most importantly, be proactive! If someone recommends you, be sure to thank them. Open the discussion to show your appreciation and then leave them with an open ended question. For instance, Dear Sally, Thank you for the recommendation you left for me. It's so great to hear from you and I hope you are doing well. It's been a long time! I would be happy to take the opportunity to write a recommendation for you, too. Congratulations on your new company! If there's anything I can do to help get the word out, please let me know. By the way, who is helping you with your social media?  Thanks again for the recommendation, it's truly appreciated. ~Liane
This is only a prologue for a whole book of tips I could write for LinkedIn, but get started with these and start seeing different results. I look forward to connecting with you on LinkedIn. Let's connect right away: Liane Caruso and Limelight Marketing Consultants and let me know how you find me!
What questions do you have about LinkedIn? Feel free to post them in comments below!