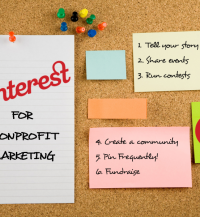 Pinterest is a unique place among social media users and an untapped market for cost effective nonprofit marketing. A study done by Shareaholic indicates that 21% of users followed up with a purchase after seeing it on Pinterest. Its also been noted that Pinterest has more referral traffic than LinkedIn, Google+, and YouTube combined. A big chunk of their users are well-off with some expendable income, and its largest demographic are young people aged 25-34; perfect for starting a lifelong relationships between a supporter and cause.  There is no downside to nonprofit organizations tapping into the Pinterest audience.
There are some little tricks to effective nonprofit marketing on Pinterest. For one, there should be five or more pertinent boards with keywords in the titles so that they are easily searchable. It is paramount to pin frequently, old news will get no ones attention and take a lot of the punch out of a board. There are different websites that allow scheduling and bulk loading pins, like Pinography.com. This lets someone stay regular on their Pinterest boards without becoming a slave to the website. Although it is also important to pin relevant material in real time to stay trending and current. Be sure to pin a diverse range of pictures to reveal a well-rounded organization. Remember, people are more likely to donate if they feel a connection!
Pinning pictures of a nonprofit's events can demonstrate where funds go and give a clear representation of the work ethic and culture of the organization. A pin can also focus on an individual testimony of someone that creates a personal connection to the visitor. An effective pin also can be inspirational, like a quotation or infographic.  If a nonprofit has merchandise that is sold to drive donations, then pinning a picture of the merchandise and including a link to the purchasing webpage (in the edit section) is an excellent way to encourage interest.
Pinterest is also a fantastic way to get people involved through competitions or contests, like who can pin the most inspiring picture and get the most repins. The prize could even be a donation in the winner's name to the hosting nonprofit! Also, following those who repin your organization's posts can be a very effective way to establish a crucial relationship with people who are clearly interested. Quality followers over just quantity are going to be more valuable to a nonprofit.
For nonprofit organizations, it is crucial to establish an emotional or personal bond with contributors to grow the organization. Time and time again people report that their pet peeve is not knowing what their donation is going towards.  People are moved to give when they feel a connection to a particular charity. Pinterest is an ideal and unique way to connect with people because it provides an opportunity to show what an organization is all about in a new natural way.
Do you use Pinterest for marketing a nonprofit? What are your successes or challenges?