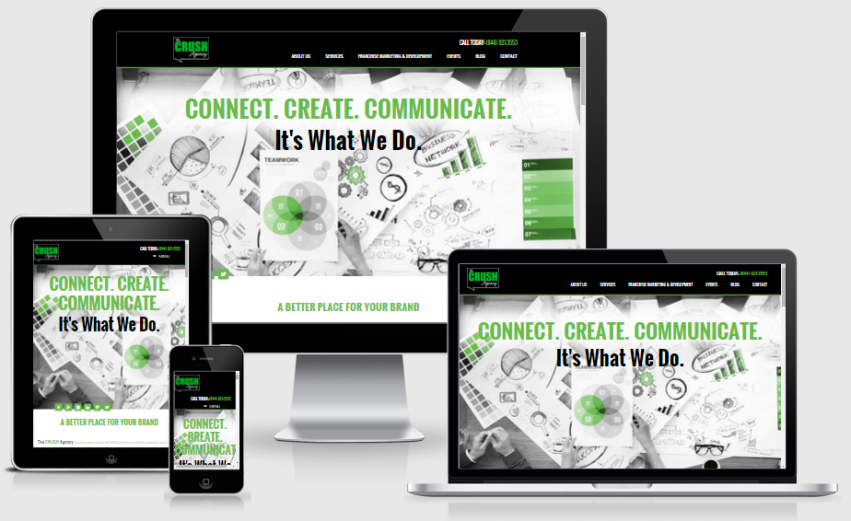 As you may or may not be aware, Google is rolling out some major, ground-breaking changes to their algorithm today. One of which will significantly impact your search ranking if your website is not responsive.
On February 26th, Google released a statement saying;
Starting April 21, we will be expanding our use of mobile-friendliness as a ranking signal. This change will affect mobile searches in all languages worldwide and will have significant impact in our search results. Consequently, users will find it easier to get relevant, high quality search results that are optimized for their devices.
Having a responsive website design means that your site is crafted to work seamlessly across multiple viewing devices. Whether a customer is looking at your website on a desktop computer, tablet or smartphone the design will automatically adapt to the size of the device. This enhances the user experience by providing easy reading and navigation with minimum zooming, panning or scrolling. In essence, making your website responsive makes it mobile friendly, thus satisfying the requirements of Google's new algorithm change.
This change should come as no surprise (other than the fact that we've known about it since February), as studies have shown internet usage on mobile devices surpassed internet usage on desktop computers for the first time in history in January of 2014. Now, a year and three months later, Google is responding to this shift in internet usage in a big way.
How Will This Affect You?
What does this mean for you? If your website is already responsive, congratulations(!), you're ahead of the game. If not, it's time to consider a re-design. Having your website rank high on Google search results is one of the most important factors in web design; you want to be found! This means having a mobile-friendly website is no longer a nice-to-have it's a need-to-have.
More than Just Search Rankings
When most people's first experience with a company is with their website, you have to be ready to make a great first impression, especially if they are looking at your website on a mobile device. According to a Pew Research Center study, U.S. Smartphone Use in 2015, "nearly two-thirds of Americans are now smartphone owners, and for many these devices are a key entry point to the online world." Smartphones have become the primary device for internet usage and this trend is influencing how web developers create websites.
Optimizing your website for mobile is especially important if you are an e-commerce business. Everything from the time it takes to load, to the ease-of-use can affect how much time a mobile user spends on your site and their likelihood of actually completing a purchase. Research has shown that 57 percent of users will leave a mobile site if it takes more than three seconds to load and 30 percent of potential buyers will not follow through with a purchase if your shopping cart is not optimized for mobile.
What Will Google Think of My Website?
There are many different factors that play in to how Google ranks your website. Everything from keywords, to relevant content, and now with the move toward using mobile-friendliness as a ranking signal, it's important to confirm that Google, in fact, sees your website as mobile-friendly. In order to find out if your website is considered mobile-friendly, Google has created a mobile-friendly test that provides a rundown of how your website performs on mobile.
We live in a digital world, where businesses rely on being able to connect with their customers online, all the time. Making your website mobile-friendly is a necessity in this kind of environment. If you would like more information on how to make your website responsive, contact us to see how we can help!
Did you put your website through the Google mobile-friendly test? How did you fare? Let us know in the comments below!